In 2018, electors voted to create nine districts in the City of Columbus and add two additional council members, for a total of nine councilmembers, representing each of the nine districts. The City will be beginning its districting effort at the end of 2020 and it will carry through the end of 2021. As part of this effort, a five-member Council Residential Districting Commission will be seated and produce three maps that will be submitted to Council. Council will be required to approve one of those maps without making changes by the end of 2021. Districts will provide geographic diversity. All citizens retain the power to vote on all of their council representatives.
On Wednesday, November 10, 2021, the CRDC released the third and final set of maps. This set of maps takes into account multiple rounds of resident feedback and creates one new map, as well as makes updates to a couple of the previous versions of maps presented to the community.
Click here to view the district boundaries and provide feedback to the CRDC. For the final round of maps, we are asking you to tell us which map do you think best represents you and your community. This map release restarts the 30-day comment period before these maps and your feedback are submitted in December. 
The CRDC will conduct a final public hearing on December 8, 2021 where they will present these maps to Council, along with resident feedback. One of these maps will be selected by Council during the December 13, 2021 meeting and the districts created will be in place for the 2023 municipal election cycle.
Visit columbus.gov/districtingcommission for more information on these efforts, links to community meetings conducted in the past month. To watch the CRDC West Side Regional Meeting, which included representatives from the Far West Side Area Commission and others on the West Side, please see: https://www.youtube.com/watch?v=qWQIOierOlg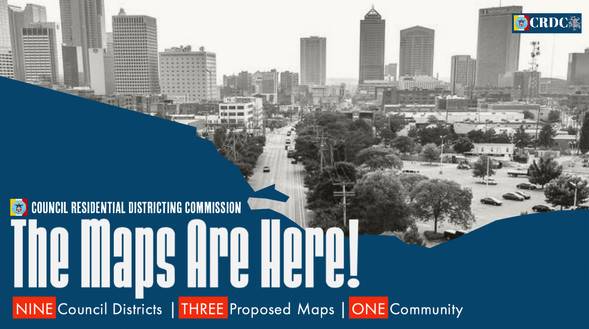 For background on this process and the CRDC, please see: 
https://www.dispatch.com/news/20180508/voters-overwhelmingly-ok-adding-2-council-seats-dividing-city-into-districts
https://www.wcbe.org/post/columbus-voters-approve-measure-expanding-size-city-council
https://news.wosu.org/news/2020-12-02/columbus-city-council-begins-long-awaited-districting-process
https://abc6onyourside.com/news/local/columbus-city-council-to-draw-new-district-lines-add-two-members-in-2021
https://www.nbc4i.com/news/local-news/columbus-begins-process-to-establish-city-council-districts/